The alarm went off far too early.  At 5:30 a.m., it was still as dark as midnight.  With everything packed in the car and with a travel mug full of hot coffee, at 6:30 a.m. I got up to speed heading south on Interstate 55.  As the sun crested the horizon shortly before 7:00, I began to look forward to the day ahead.
I drove nearly three hours from St. Louis to Cobden – a village in Southern Illinois.  This town of a bit more than a thousand people could be mistaken for most any town in the rural United States.  Its name is borrowed from a British politician who happened to make a stop in the town in 1859: Richard Cobden.  The town known by its Appleknocker mascot: a freckled man in flannel shirt and straw hat who holds one of the prize apples grown in the region.

Like most of rural American today, the rate of unemployment in the Cobden area is high.  Median income is well below the national average.  There's seasonal work in fruit orchards  tended to by migrant workers. No major industry remains in the area. A drive through town shows the signs of decay with bumpy roads, rusted guard rails, and occasional buildings in need of a new coat of paint.
Despite Cobden's seeming ordinariness, the village is much different from most of small town America.  The richness of Cobden is found in the depth of community fostered there – the kind of community rarely found in America today. Although some people in America today  reminisce about life in the 1950s, the community of Cobden isn't attempting to hang on to some faded nostalgia from the past.  The village leaders are intentional in efforts to draw people together with an appreciation of diversity and a forward looking vision.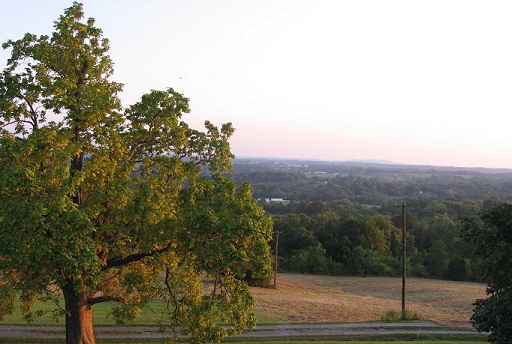 My trip to Cobden was to participate in the autumn Color Fest.  Held annually on the second Saturday in October, Color Fest is a community gathering to mark the season with food, entertainment, and a variety of vendors.  As a sat at a table signing copies of my new book, not far from me was an area where the youth – and some others young at heart – got their faces painted by two of the local artists.  Mexican mothers and children were enjoying the experience with Anglo mothers and children, sometimes speaking with broken versions of English or Spanish but communicating deeply with smiles and laughter.  Throughout the day, a variety of musicians entertained from the main stage.  Folk, bluegrass, classic rock and an a capella women's group, the Free Range Chicks: four women who wove delightful harmonies punctuated with stories and jokes.  Fundraising efforts for the day supported a local no-kill animal shelter provided care to far too many pets that had been abandoned. Food for the day included a spicy chili made with organic beef, bar-be-que on ciabatta bread, and a variety of choices that would have pleased any locally grown, slow food aficionado.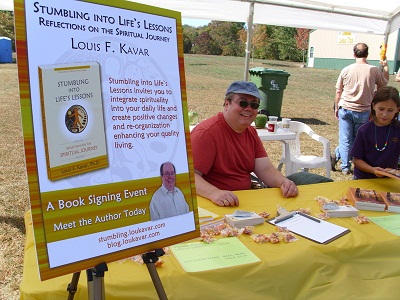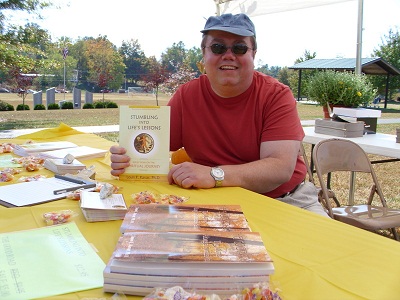 Discussions of spirituality often center on spiritual practices and spiritual experiences.  The community of Codben is a refreshing example of a living spirit that is about the place and the people.  This communal spirituality isn't about any shared belief system or common spiritual practice.  Instead, it is a reflection of the choices people have made to live together in ways that enhance the life of the community.  In Cobden, the public good is taken seriously as people make deliberate decisions to use their resources to share what they can to help build up the community.  That's why on any given day, the Yellow Moon Café is not just a whole foods restaurant but also a gathering place where people share thoughts and dreams. The local art gallery, Monarch Studio, shows the work of not only new artists from St. Louis and Chicago but also saves gallery space for the local high school students to display their work in a professional setting. At Ant Hill Gallery, stained glass panels and photography are displayed along with artisan crafts from various cultures: Appalachian, Native American, and Mexican.  Of course, there's the local tavern, feed store, and health clinic.  More important, there's a living spirit and vitality that enhances the life of the residents.  Codben is a community.  It's much more than another small town.
It was a long, hot day on Saturday.  The afternoon temperature crested at 89 – far warmer than typical autumn weather.  Though tired and drained from a day out-of-doors in the heat, I drove back to my St. Louis home with a renewed by my day at Color Fest.  After all, I had spent the day in Cobden.  No, it's not the wo-be-gone town that time forgot.  It's a new possibility for small town life that takes seriously the importance of fostering a community that enriches the lives of ordinary people.
© 2010, emerging by Lou Kavar, Ph.D.. All rights reserved.