As I entered the church for Sunday morning's service, I noticed about a dozen people gathered around a large display. As I moved closer, I recognized the cloth in front of them: it was a panel from the Names Project, also known as the AIDS Memorial Quilt.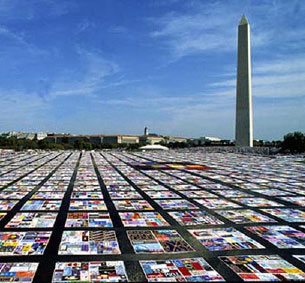 The Names Project was organized in 1987 by San Francisco community leader Cleve Jones. Like many of us in those years, Jones was losing more friends to AIDS than was imaginable. At a candlelight memorial, he invited people to write down the names of people they knew who had passed and create a memorial out of the names. From that simple ritual, the Names Project developed. Since 1987, over 91,000 panels have been made by the friends and loved ones of those who have died from complications due to AIDS. The Quilt has long been too large to display at one time. Today, panels or sections are displayed in public places, particularly in commemoration of World AIDS Day on December 1.
I remember the first World AIDS Day very clearly. I had been asked to coordinate an interfaith service to be held in Pittsburgh by a research group at the University of Pittsburgh. (At that time, I was a member of the advisory boards for two studies related to AIDS at the University.) During that interfaith service, participants were invited to place stickers of a large poster board within the image of a heart. I remember watching the line of participants coming forward in tears as they publically memorialized their loved ones and sought solace in prayer.
The reality of HIV/AIDS is very different today. Attempting to talk or write about what it was like in the 1980s draws me back into the experience of traumatic stress. When I attempt to share my memories and recollections with those who didn't live through it, I cannot find the words to encapsulate the horror. The emotion continues to be overwhelming.
During Sunday's service, the minister shared that she was honored to have the panel from the Quilt at the church. Next Sunday, another panel will drape the altar. On it, bread will be broken and the cup shared in the sacrament of communion. She spoke of the rise of HIV infection in the US today, which is occurring as the rate in HIV infection around the world declines. She also offered a confession. With a sense of humility she admitted that AIDS has not been "her epidemic." She explained that no one close to her had been infected and that no one close to her had died. Yet, she recognized the importance of understanding the HIV pandemic.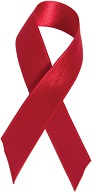 While I appreciate her honesty and recognized that her comments probably rang true for many of the congregants gathered on Sunday morning, I also had difficulty sorting out the anger her comments elicited from me. As she spoke, the faces of more than a dozen people I know today living with HIV infection appeared in my mind. This led to recalling the hundreds of people I've known who died. More significantly, I recalled the sense of isolation I felt in the 1980s when no one wanted to admit that AIDS was "their epidemic." AIDS has always been viewed as a disease of "the other."
I realize that the minister was attempting to encourage people to think and to understand what the experience of having one's life impacted by HIV/AIDS is like. I appreciate the honest and open way she approached this topic. But I would suggest that a way to allow HIV/AIDS to become "your epidemic" would be to simply take time with someone who has suffered because of HIV/AIDS and openly listen to that person's story.
There are many families who lost sons and daughters, brothers and sisters, husbands and mothers to AIDS before successful treatments were developed in the mid-1990s. Many family members remain unable to talk to others about their losses. Their grief comes to the surface again in December with World AIDS Day as well as with the holiday season. There are also many people like me who worked with few resources against immeasurable odds to develop services for people with AIDS, We also carry memories of loved ones and grief over the death of so many friends that remains difficult to process. There are also many young people and adults who need to learn from the experience of those who have gone before to better understand the need for safer-sex precautions. A lack of understanding of HIV in the United States has led to increased transmission of the virus.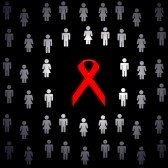 I am proud that I do belong to a local congregation that is making World AIDS Day a tangible part of its communal life. It has not been relegated to some small liturgical action on a weekday when no one will notice but is part of the Sunday gathering for two weeks. That helps to make AIDS an epidemic everyone can better grasp. But I suggest that in the end, it is by taking time to listen and learn that will enable people to move from saying, "This hasn't been my epidemic" to a new realization that this always has been our epidemic.
© 2011, emerging by Lou Kavar, Ph.D.. All rights reserved.