It was something he hadn't experienced before. I was a bit surprised by that, but it's probably not uncommon. He told me that at age 26, it was the first time he knew someone who had died. Of course, I know that my life was a bit unusual in this regard. By age 26, I had tended to the passing of more people than I could count, both from old age and sickness as well as from HIV/AIDS.
It was his grandmother who had passed. She was 97. "I didn't know her well. She was a formal Southern woman whom we always addressed as 'ma'am.' She was kind to me, but I don't feel like I really knew her. So, I'm not sure how I feel about her death." He paused for a moment and then continued. "My father's taking it hard. I don't really know why. It was his mother, but she was 97. It's not like we didn't expect that she would die soon."
Loss is something we all experience. The only way one comes to understand loss is to experience it. I wasn't sure how to process my experience of multiple losses in my 20's. It had taken a toll on me. That's probably why I did my doctoral dissertation on bereavement. I didn't realize it at the time, but I was probably trying to sort out my own issues by doing research.
At the time I was doing my dissertation research – around 1989 and 1990 – the literature on bereavement was a bit different from today. At that time, there was still a general assumption that one would recover from loss. The work of object-relations psychoanalyst John Bowlby was popular. His contention was that most people, in about a year or so after the loss, would recover and re-integrate life in a new way without the person. Today, that's not the prevailing opinion held in psychology about bereavement.
While it is true that people re-integrate their lives after a loss, the period of time can vary a great deal from one person to another and from one loss to another. There are many factors that come into play. My short-hand for this is to expect at least a year to get past some of the most challenging aspects of bereavement. But even though we are able to get on with life, the grief from the loss of someone significant in our lives really never ends. Instead, we just learn how to live with it.
Sometimes, occasions bring back the feelings of grief, like a birthday or holiday or anniversary. Other times, we're caught very much off guard by having a vivid memory of the person who is long dead. There are times when a fragrance or aroma will bring back a memory or a particular food. Of course, songs have lots of memories, too. Even though my father's been dead for twelve years, I can't hear the Christmas carol, Angels We Have Heard on High, without hearing him singing in my ear. (Dad never had good pitch, but he loved to sing!)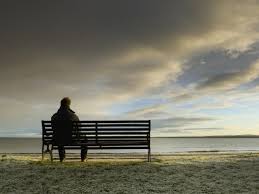 I tried to explain some of these things to the young man. As I did, he had something of a blank look on his face. I knew he didn't understand. He couldn't. He hasn't experienced it for himself.
I asked him if he and his father were able to talk about personal things. He said they could and that he always enjoyed talking with his father. I suggested that over the next year or so that he ask his father about how he's doing with this very significant loss, to try to be there for his father and just listen. I suggested that he ask his father what he misses about his mother and the things that he thinks about. I noted that he shouldn't be surprised if it's odd little things that he calls to mind. That happens for most people.
I hope that this young man will be able to learn more about bereavement from his father's experience of loss. That way, he may be more prepared for this process when he experiences it himself. When we talk about our losses and the experience of bereavement, we not only help ourselves but prepare others who will also experience grief throughout their lives.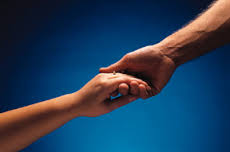 I shared with him something I included in my dissertation – which is something I remind myself often about bereavement. It's one of the important lessons I learned about bereavement during the days of the AIDS crisis. It's the closing scene from Harvey Feinstein's play, Torch Song Trilogy, where Ma says to Arnold, "Give yourself time, Arnold. It gets better. But, Arnold, it won't ever go away. You can work longer hours, adopt a son, fight with me…whatever, it'll still be there. But that's alright. It becomes part of you, like wearing a ring or a pair of glasses. You get used to it and it's good … because it makes sure you don't forget."
Grief: while we find ways to reorganize our lives without our loved ones who have died, there's an ache that stays with us. It becomes part of us. It's good. It makes sure we never really forget the life and the love we shared.
© 2014, emerging by Lou Kavar, Ph.D.. All rights reserved.