It was a humid day. A slow, steady rain fell as we stood in the line. Some friends told us that they waited over two hours in this line. I suspected that because of the rain it would be much faster. I was right. Our wait was only 45 minutes. Still, I was glad I had a hooded rain jacket with me.
Visiting this museum wasn't a priority for me on this trip. I've spent a considerable amount of time reading literature from the Holocaust and have spoken with survivors. I knew that for me going to the museum would be unsettling. However, it seemed like the thing to do. Further, my friends would be surprised if I visited Amsterdam and failed to go to the Anne Frank House.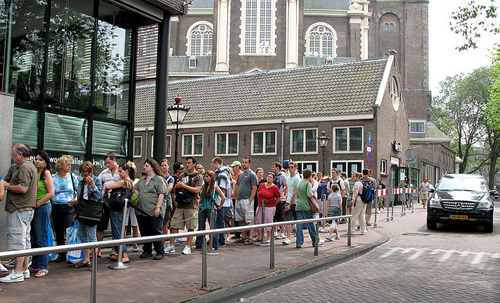 In grade school and then again in high school, I was required to read The Diary of Anne Frank. Also in grade school, we were assembled in the auditorium to view the 1959 movie by the same name. I knew the story well. Anne was a teenager when her family went into hiding during the Nazi occupation of the Netherlands. The Franks, originally from Frankfurt, Germany, fled to Amsterdam to stay ahead of the Nazi extermination of Jews. Unable to leave the Netherlands, they hid for over two years. In the end, all of the family except father, Otto, died in prison camps. Over the time in hiding, Anne kept a journal as did many teenage girls of that era. Today, her journal continues to inspire people around the world.
As I toured the Anne Frank House, I thought about what it must have been like for Otto Frank to work so hard to save his family. Clearly a person of some financial resource, he was able to move the family, start a new business, and then create a hiding place that no one noticed for over two years. But for all his efforts, he could not save his family from the horror that decimated Europe under Nazi occupation.
As I filed through the building that was both a factory and the Frank's hiding place with tourists from many countries, I was struck by the sense of reverence and quiet that came over most people. We were walking through what had been a sanctuary. The sacrifices made in this place hallowed the building. There were many sacrifices made by the Frank family who gave up their freedom. But there were also significant sacrifices made by those who helped and provided for them over their years in hiding.
Perhaps what struck me most as I walked through the narrow corridors of the Anne Frank House was the awareness that the oppression of people continues today in so many forms. It's very tempting to view the rise of the Nazi regime and the extermination camps as a dark chapter of history. While it is a particularly significant moment in history, the same kinds of injustice happen today around the world.
We in the US watch at a distance as refugees from Syria, Iraq, and Afghanistan seek refuge in Europe. The ravages of war, yes wars largely waged with US weaponry, have forced tens of thousands to seek refuge. Countries like Eretria and South Sudan struggle in battles with innocent people slaughtered each day. Our denial of global warming and failure to wean ourselves from fossil fuels is causing climate change, leaving millions to struggle for food, water, and survival. And here, in the US, there are calls to deport children who have been sent to the country for refuge as well as increase penalties for those who seek to escape the war on drugs we fund in Latin America.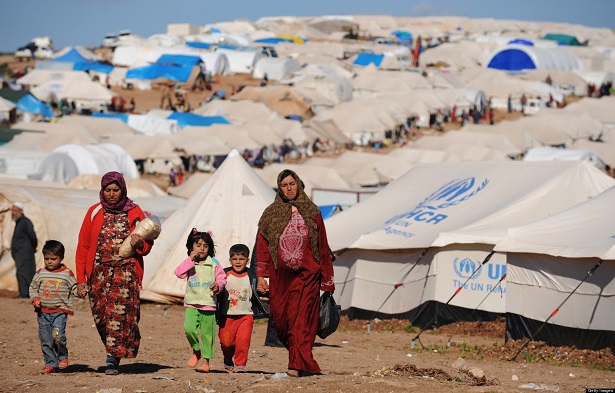 I think it's easy for us to feel moved by the story of Anne Frank and her family. It's an historic tragedy that we can allow ourselves to feel. But when faced with human tragedies in the world today, tragedies often caused because of our self-absorbed political positions, we take a very different view. Rather than acting out of human compassion, we harden our hearts and continue to make decisions for our own short-term benefit. In doing so, the enormity of human tragedies grows.
Key to Christian morality is the teaching of Jesus to love one another. Among Buddhists, there is a similar value to live with compassion for all sentient beings. In the Jewish tradition, the moral imperative of tikkumolam requires that followers actively heal what is broken in the world. In short, the religions of the world call us to live and act in ways that bring wholeness and compassion for others.
There were several helpers who enabled Anne Frank and her family to remain in hiding for two years. Among them were MiepGies, Jan Gies, Johannes Kleiman, Victor Kugler,BepVoskuijl, and Jan Voskuijl. They did what they could to show love, to live compassionately, and to heal what was broken in society. Today, I wonder how many people are willing to be like them. While many people claim to value spirituality and engage in spiritual practice, are such values and practices just about personal fulfillment? Or do they lead us to care for others and our planet in ways that sustains life and brings justice?
I'm glad that I visited the Anne Frank House. Yet, the experience saddened me. It caused me to realize that far too many people cooperate with the oppression of innocent people rather than work to make the world a place that is safe and secure for others.
© 2015, emerging by Lou Kavar, Ph.D.. All rights reserved.