I'm well aware that I'm a white man of a certain age. Like other white men in my age group in the United States, I know that because of my age it would be difficult for me to find full time employment if I left my current job. I also know that many white men my age who have lost full time employment have drained their savings to maintain their families. They've also experienced more health related issues and died from premature death. None of those are imagined fears. They are very real.
As 2015 unfolded, in the United States, there proved to be more mass shootings than days. While there has been great concern about "would be" Islamic terrorists since the San Bernardino shooting, far more common are the shootings by white Christian terrorists. Remember that it was white Christian terrorists who killed innocent people at a Planned Parenthood facilty and who participated in Bible study at a Charleston, SC church before gunning down those present. Whether in a movie theater, a school, or office building, a person in the United States could easily become a victim of a mass shooting. This fear is also very real.
I live in a state which passed what's commonly referred to as a "guns everywhere" law. Georgia residents with a license to carry firearms can bring guns into any setting except certain government buildings and specific churches with a policy to restrict guns on the premises for religious reasons. While no statistics are available on the number of firearms deaths in Georgia since the law was passed in 2014, the last year for which I could find statistics (2013) listed Georgia well above the national average for gun related fatalities. Two or three times a month, gunshots can be heard in my middle class neighborhood. I'm aware that I could easily fall victim to a stray bullet even though I refuse to own a gun. This is another fear that is very real to me.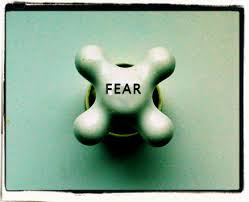 As I look to 2016, I recognize that there are many things to fear. If I went on with this list of fears, I could include anxieties over health and healthcare, financial stability, and the well-being of our families and communities. But as a person of faith, as a follower of the teaching of Jesus, I refuse to let my fears overwhelm me. Instead, I recall the words of Jesus, recorded in gospels attributed to Mark and to Luke: "Fear is useless! What is needed is trust." (Mark 5:36; Luke 8:50)
When I bought my home five years ago in Atlanta, I recognized some of the things that were important to me about the neighborhood. My home is three blocks from a grocery store. It's less than a mile to a freeway. The neighborhood is very quiet and full of trees. Behind my home is a wooded area and stream. Those were things that supported my decision to purchase this house. What I've come to learn about my neighborhood (and appreciate a great deal) is how diverse it is. My neighborhood is racially mixed, multi-generational, with families that are traditional as well as lesbian and gay households. Part of our diversity I appreciate is the high number of Muslim neighbors, including the imam from the local mosque. What's striking is that in all of our diversity, we have a friendly neighborhood where people generally look out for one another. When neighbors have died, collections have been taken for a memorial gift for the family. In autumn and spring, we spend a Saturday cleaning up the neighborhood (because of the lack of such services by our local government). We even party together on occasion.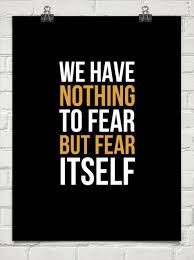 While the media, some elected officials, and certain political candidates do their best to prey on our fears — particularly the fears shared by white people of my age group — I recall the words of Franklin D. Roosevelt in his first inaugural address: "We have nothing to fear but fear itself." As an older white guy living in a neighborhood like mine, I know that there is nothing to fear from people different from myself. We work together for the common good by maintaining a neighborhood watch, cleaning up random debris, and supporting the seniors who live alone.
As I consider the fears I listed regarding safety, violence, financial stability, and other concerns of day to day life, I recognize that all of them are the result of government policies meant to create wealth for the privileged few. Because these fears are created to manipulate the general public, my New Year's resolution is not to give into them. Instead, at the start of 2016, I commit myself to strive to overcome the pervasive fears by doing what I can to challenge the fear mongers: to support political candidates with well-reasoned positions, to write and call elected officials to advocate for change better social policy, and to champion organizations and causes that work for the common good.
Indeed, fear is useless. What is needed is trust. Fundamentally, I trust that people can bring positive change in society when we work together. I trust that we can hold government officials and the media accountable if our voices are united. Ultimately, I trust that goodness will prevail over the social ills we face for the benefit of future generations. It is my fondest hope that others will join me in working to overcome the fears we all experience by working for a better tomorrow. Together, we can have a happy new year.
© 2015, emerging by Lou Kavar, Ph.D.. All rights reserved.