I read and study a wide variety of literature on spirituality.  While I am a Christian, my spiritual practice also draws on elements of Buddhism.  It's often been the case that Buddhist practice has helped me gain a better understanding of Christianity.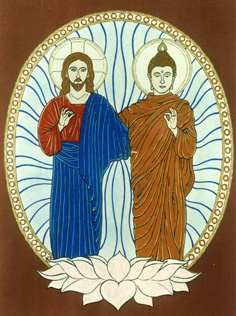 Many people have drawn on both Christianity and Buddhism in their spiritual practice.  Within the Christian tradition, perhaps the most famous was the priest, monk, and spiritual teacher Thomas Merton.  In fact, Merton died in Thailand during a gathering of Christian and Buddhist monks in Thailand during dialogues about spiritual practice.  Similarly, both of the great Buddhist teachers of our era, the Dali Lama and Thich Nhat Hanh, have written about the compatibility of the teachings of Jesus and Buddhist teachings.
In considering Christian and Buddhist practice, there appears to be a fundamental conflict in the purpose of meditation.  For Christians, meditation is to bring one closer to God and to experience the presence of God more fully.  For Buddhists, the practice of meditation is letting go of all distractions, thoughts, and images.  Letting go of all expectations, beliefs, and desires is the heart of Buddhist practice.  This clearly leads to the question:  how can a Christian who not only believes in God but is attempting to grow closer to God by meditation let go of all expectations and beliefs?  Isn't that contrary to faith?
What I have learned in my practice of meditation is that I have been taught particular beliefs about God and expect God to be that way.  I expect God to be all-powerful, a trinity of three persons, all loving, and ever-present.  Yet, if God is truly Divine, then God is beyond my capacity to imagine and describe.  God is so much greater than I can ever understand that my beliefs and images are nothing less than inadequate.  In order to truly experience the Divine, I must let go of everything I have been taught, thought about, imaged, or considered God to be.  All those things just get in the way of the real experience.
To encounter the Divine requires that my understanding of a Diving Being has no importance at all.  Instead, I simply open myself to all the Divine is and may be. This is how Buddhism challenges me to let my beliefs, expectations, and pre-determined categories fall aside in order to be truly present to what is.
A good example of setting aside one's beliefs and expectations about the Divine is Biblical story recorded in the gospel attributed to Luke.  An angel appeared to Mary and told her she would have a baby.  Mary was not in control of the experience.  She was simply open to what would occur.  In that, something Divine was born in her.
Buddhism has taught me to let go of my beliefs and understandings of what the Divine should be or even be like.  That has meant that in silence I have had the opportunity to simply allow God to be God.  In doing so, I've grown to understand more of what it means to be a Christian contemplative.
© 2017, emerging by Lou Kavar, Ph.D.. All rights reserved.