It's an odd year.  This hasn't happened since 1945.  Things were different then.  But it's happening again:  Ash Wednesday falls on February 14 — Valentine's Day.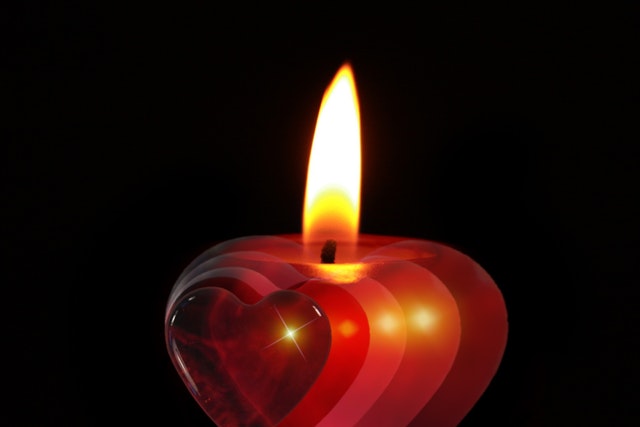 While there are lots of jokes being made about the coincidence online, I look at this unique happenstance of dates to be worth considering.  After all, both observances are about one's heart.
Yes, Valentine's Day is a day of romance.  It's a day set aside to focus on the love of one's life, to express that warmth and commitment with flowers, candy, special meals, and a sense of renewed commitment.  It's a beautiful thing.  Often, our day to day lives are cluttered with routine responsibilities and we can easily take each other for granted.  Valentine's Day is the chance to pause and say, "Yes.  You truly are important to me even though many days I forget to tell you."
The real St. Valentine was a very devoted man.  He lived in the third century CE and refused to follow the emperor's edict which forbade Christian couples from marrying.  He was accused of presiding at weddings and became a martyr in early Christian history.  Unlike others martyrs of his day, he was sentenced to a three-part execution. He was beaten to death, his body stoned and then decapitated. Out of this grisly death-sentence, he became known as the patron of lovers.  He gave his life for the cause of love.
While it's often obscured in Christian practice today, Ash Wednesday is also a day about love.  Our images of Ash Wednesday are sorrowful and drab, but the foundation of Ash Wednesday is the invitation to return to our hearts and return to love.
Ash Wednesday is the reminder that, well, our day to day lives are cluttered with responsibilities and we easily take each other — and the spiritual dimension of life — for granted.  Ash Wednesday provides us with the opportunity to return to our heart, to love our neighbor as ourselves, and to look again to see goodness and grace in ourselves and others.  Ash Wednesday draws us toward the heart of who we are: beings created to reflect infinite love and goodness.
On both Valentine's Day and Ash Wednesday, we say in various ways that the only things that really matter are the matters of the heart.  As St. Valentine knew, it was all about love.  He gave his life for the sake of love.
As Valentine's Day and Ash Wednesday fall in sync together, perhaps it's best for us to simply reflect on how love shapes us and our lives together.  The works of the Sufi mystic poet, Hafiz, capture it well for me.
Faithful Lover
The moon came to me last night
With a sweet question.
She said,
"The sun has been my faithful lover
For millions of years.
Whenever I offer my body to him
Brilliant light pours from his heart.
Thousands then notice my happiness
And delight in pointing
Toward my beauty.
Hafiz,
Is it true that our destiny
Is to turn into Light
Itself?"
And I replied,
Dear moon,
Now that your love is maturing,
We need to sit together
Close like this more often
So I might instruct you
How to become
Who you
Are!
Photo source: Source: pixabay.com
© 2018, emerging by Lou Kavar, Ph.D.. All rights reserved.