I am in awe that all four of my grandparents were part of a great exodus to the United States. From 1890 to 1914, 70% of the immigrants to the United States were from Eastern and Southern Europe. It was an immigration phenomenon that brought 1.2 million people to the United States.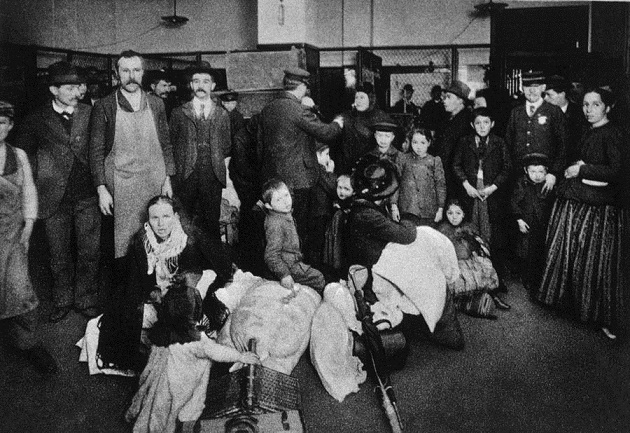 My paternal grandparents arrived at Ellis Island from Hungary. My maternal grandparents made their way from Slovakia. None of the four knew each other when they arrived in the United States. But they all came to the US knowing that they would never return to their families or homes. Ultimately, their voyage across the ocean would lead them to a small hamlet in the mountains of Western Pennsylvania called Acosta.
Acosta was established as a "company town" by the Somerset Coal Company in 1905. It was built at the entrance of two coal mines. In 1910, the town and mines were bought by Consolidated Coal Company. It was in this village that my parents grew up – living across back yards from each other.
Both families lived in four room homes built and owned by the coal company. Miners and their families could rent these homes from their employers. The stores and other venues were also owned by the coal mine. The mine even made its own currency and paid the workers with it. The company currency, referred to as "jinky tin," could be exchanged for US dollars at a fraction of the currency's marked value. In short, my grandparents came to the US and ended up in a kind of indentured servitude.
What strikes me about grandparent's experience of immigration is that it's not substantially different from today's immigrants who come to the US from Latin America. They come hoping for a better life and often end up in a kind of indentured servitude working in the agriculture industry.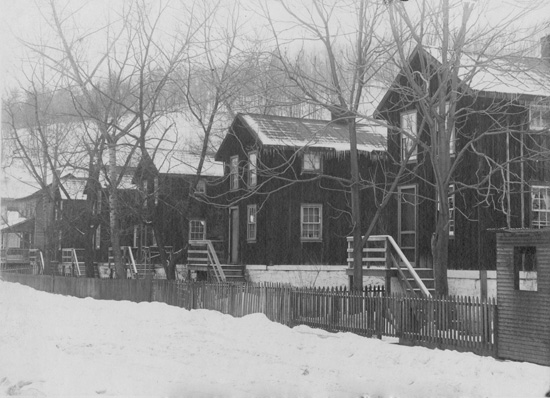 Today, I received a forwarded email from a long time friend whose politics are far more conservative than my own. Among the various statements made in the email about immigration to the US today was this one:
"When I was young, I remember hearing about the immigrants that came through Ellis Island. They wanted to learn English. They wanted to breathe free. They wanted to become Americans. Now too many immigrants come here with demands. They demand to be taught in their own language. They demand special privileges–affirmative action. They demand ethnic studies that glorify their culture."
The email didn't provide a source for this statement, so I have no idea who sent it. But given my own family's story of immigration, I was highly offended.
I can't tell you why my grandparents wanted to come to the United States. I have always presumed that the reasons were economic and politically related: life was just too poor in Eastern Europe and the United States offered hope. Eastern European empires at that time were far from kind toward the peasant class. I have no evidence to believe that they wanted to learn English when they arrived. They had to learn some English to pass the citizenship test. But my father and grandfather always spoke to each other in Hungarian until my grandfather died. When my grandfather attempted to speak English, it was very broken even after he lived in the US for sixty years. He went to a Hungarian church and read his Hungarian Bible every day. My mother's mother was a bit better with English, but my recollection is she generally spoke Slovak with some English words mixed in. When she prayed, it was in Slovak. When she was older, she stopped going to the Catholic Church when Mass in English and not Latin. She just couldn't understand English well enough.
My mother told me of her experience in grade school when children were punished if they spoke any other language than English. One time, she forgot the English word for something and used the Slovak word. For that, she was paddled.
The truth is that Americans have historically treated immigrants of past generations terribly. Preying on anti-immigrant fears got conservative candidates elected to office who introduced the Chinese Exclusionary Act of 1882. That was the first major law restricting immigration to the United States and it was entirely based on racism.
The experience of prejudice left a significant impact on my family. My mother, who died just a few years ago, refused to call herself an American even though she was born in the United States. When I spoke with her about it, and I did several times, she said that "Americans were those other people. They are the ones who hurt us." She was right. Wrapped in the American flag and with claims of Christianity on their side, it was a certain type of American who made life very hard for my parents and grandparents.
Today, people still come to the United States seeking refuge. Similar people also go to Australia and the United Kingdom for refuge and for the chance to live secure lives. Just as happened to my family, there are far too many shouting epitaphs of hatred at poor, struggling people who have often faced violence while risking their lives for a chance of a better future.
I understand that there are people in the world who are filled with hate for others. There are also those who are afraid of others. While I do have compassion for such people because in most cases they suffer from some kind of deep wound, I have no tolerance when these same people cling to the Bible to support their hatred. This has most recently been exemplified by the protestors carrying signs and shouting terrible, terrible things at children who have been smuggled into the United States and abandoned.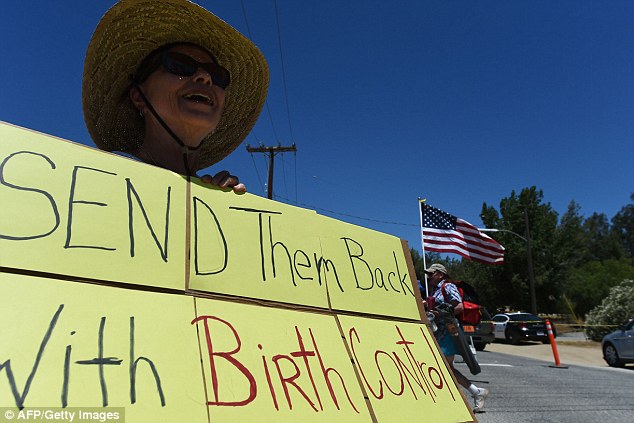 Those who share the Judeo-Christian tradition are surely aware that showing hospitality to aliens was understood to be a critical way to demonstrate participation in the covenant God made with Israel (see Deuteronomy 23:9). Of course, there's also the final judgment scene depicted in Matthew 25. In that passage, the measure for admission to the realm of God is caring for the least ones. Providing support and care for refugees is at the heart of the Judeo-Christian and the Bible makes that clear for anyone who cares to actually read it. After all, as a child, the gospel of Matthew explains that Jesus and his parents fled for their lives and found safety in Egypt. What better opportunity to treat others as Christ than by welcoming children stranded at our border?
I understand that immigration is a significant problem in the United States. As part of a bi-national couple, I have had to deal with US immigration personally. The system is broken beyond repair and has been for years. For the last twenty years, there has been no meaningful immigration reform. Because of partisanship in the United States, I don't expect any real change. Instead, rather than holding elected official responsible for a failed immigration system, we will continue to blame the immigrants. Yet, the US economy only works when there is a constant stream of new immigrants entering our work force and paying taxes. (Yes: even undocumented immigrants pay taxes. Approximately 5% of jobs are filled by tax-paying undocumented immigrants who are never able to use Social Security and other government benefits.)
Of course, the complaint is always made that the United States can't afford the amount of money needed to solve immigration or any other social program. In truth, the US has more than enough money to spend as our elected officials choose. For instance, less than a month ago, $85 billion dollars of US tax dollars were invested in the development of new technology stealth bombers. Given the amount of money wasted on the wars in Afghanistan and Iraq, it's very clear that the United States has money to spend when it wants to do so.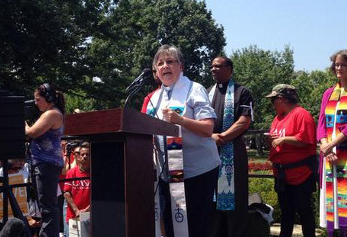 While I am not hopeful that the plight of immigrants to the United States will change in the near future, I do find consolation that many religious groups including my own denomination, the United Church of Christ, is active in finding ways to support those arriving in the United States. Standing up to public opinion, some of our leaders have been arrested for demonstrating against the poor treatment of children abandoned in the US. We've also raised significant funds to provide care and support for those children.
Ultimately, US immigration is a broken system. Because of it, many people have been victimized by processes that are capricious and policies that are idiosyncratically enforced. Rather than blaming the immigrants, it's time for Americans and our government to fix what's broken rather than victimize large groups of people.
© 2014, emerging by Lou Kavar, Ph.D.. All rights reserved.