As I left church this past Sunday, one of the members of the congregation called to me in the parking lot. She was sitting in her car and had lowered the passenger window to talk to me. She's a kindly woman in her 70's who sits toward the front each Sunday. While she's a quiet individual, she makes it a point to greet everyone she can after the service. It's also important to her to introduce herself to visitors and welcome them. While I don't know her well, she's always seemed to me to be a warm and compassionate person.
I walked over to her car and leaned a bit to chat. She began the conversation, "I just wanted to ask you a question. What do you think of Halloween?" I wasn't sure what she meant so I started with, "As a kid, I always looked forward to it. I have to admit, I still do like candy corn." I continued, "But I think there's something more that you're asking."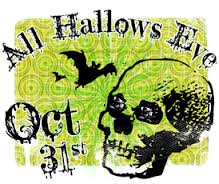 With a serious look on her face, she responded. "You know I'm alone now. At my age, most of my friends have passed, too. I was thinking about how in other cultures people celebrate Halloween remembering the dead. I guess in Mexico and some other countries, they decorate graves and have parades. I'm not sure if I understand all that but I do miss those who have passed."
As she spoke, I recalled the years I lived in Tucson, Arizona. Día de Los Muertos. the Day of the Dead, was marked with a night-time parade. People of Latin heritage took food to graves and had something of a picnic at the grave sites of family members. Others, whose ancestors were buried elsewhere, sometimes made shrines at home. In these customs, I gained a better understanding not just of Mexican culture but also of the Celtic and pagan understanding of the thinness of Halloween when the spirits of loved ones were somehow more present to us. Yes, I had to agree with the woman from my church: I too miss those who have passed.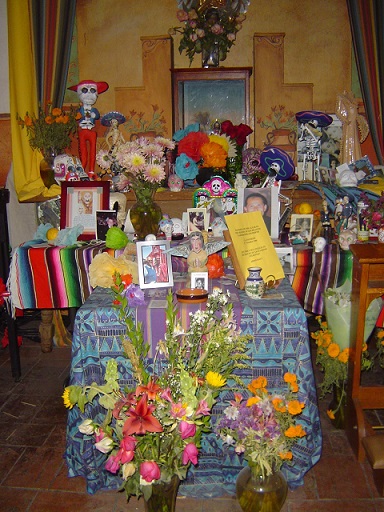 In my church, as in many other Christian communities, loved ones will be remembered over this weekend as part of the observance of All Saints and All Souls days (November 1 and 2, respectively). In the congregation where I belong, photos of loved ones will be arranged in a slide show that will be viewed during the service. Those present will have the opportunity to light candles in remembrance of those who have died. It is a way to remember loved ones for a few moments as part of our Sunday gathering. Even though our Sunday ritual has been carefully planned, it's really just a token event when compared with the traditional Mexican observance of Dia de Los Meurtos. There's leisure to the uniquely Latin observance of remembrance that we miss by limiting our memorial to four or five minutes in a Sunday service. We miss the sharing of food, laughter, and stories. In such remembrances, there's a sense of the loved one's presence with us again. In a way, our loved ones come to life by re-telling stories and eating favorite foods we once shared with them.
While family members and close friends who have passed from this life are often on my mind, this week as I work with graduate students in psychology and seminarians preparing for ministry, I have remembered some of the mentors who were a formative influence for me. They helped me to become the professor, researcher, and pastor I am today. Something of them lives on in me, just as something of my parents and close friends continues to live on in my life. I am grateful for the ways in which they have been part of my life. But I am also grateful that the time of All Hallows Eve followed by All Saints and All Souls days draws me to reflect on the threads of their lives woven into my own.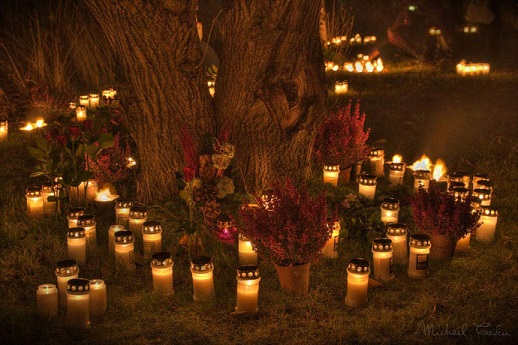 Of course, I look forward to the children's fun on Halloween night with trick or treating and playing in the neighborhood. That was some of the best stuff of my own childhood. I hope that other children can enjoy this custom for generations to come. But I also hope that they learn some of the beauty of the roots of Halloween that goes much deeper than super hero costumes and fake spider webs on hedges. I've come to a point in my life when having a time to remember those who have been part of my life, who have shaped my life, and who have passed from my life has become very significant. This remembrance of those who have gone before us marks the essence of the holiday we know of as Halloween.
© 2014, emerging by Lou Kavar, Ph.D.. All rights reserved.